Secure Peering Group
A secure data exchange platform for business communities.
What is it?
Secure Peer Group is private peering with direct access to all group members via L2VPN channels used between trusted partners, suppliers, and customers. The service ensures the transfer of official, confidential traffic along the shortest routing path between group members.
Who is it for?
A direct connection between users is the most secure way to transfer data. But when it comes to interaction between several users, a proprietary, secure peering group, where data transfer is carried out on a one-to-group and a group-to-group basis, is the best solution.
Thus, Secure Peering Group service is best suited for companies with high security requirements, such as those in the public sector, banking sector, or companies with geographically distributed IT infrastructure, which require secure information exchange with several participants at once.
How does it work?
When using Secure Peering Group, traffic is sent within a closed loop, thus minimizing the risks inherent in data transfer via the public internet or public peering infrastructure. A closed peering group provides a secure interaction environment for the community, where the rules for joining the group are developed by the community itself.
What is required to connect?
To connect, you need to develop rules for joining a group within your community and then connect to any hub in the MSK-IX network that offers a separate peer group on a dedicated RouteServer.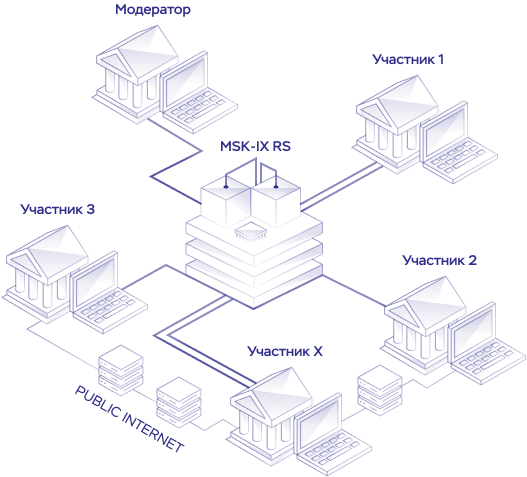 Why MSK-IX?

No DDoS attacks, 100% guaranteed

High data rate with minimal latency (up to 100G)

Wide availability: 42 connection sites in 10 Russian cities

Minimal service response time
Your request is accepted. You have provided the following contact details:
Email:
Phone:
Our manager will contact you shortly.
For technical reasons, your request has not been sent. Try later or call
+7 495 737-92-96